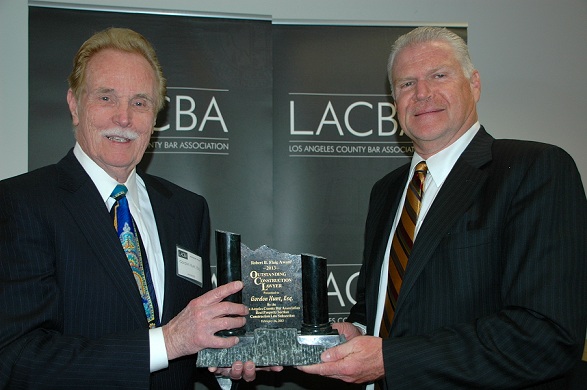 The 2013 presentation of the Robert Flaig Award was bestowed to Gordon Hunt, Esq. of Hunt Ortmann by Dale Ortmann, Esq., Managing Partner of the firm. Mr. Hunt, a well-known authority on construction law and litigation in California, is the co-founder of Hunt Ortmann. He is a past Chair of the Construction Law Subsection and was the first construction lawyer to serve as Chair of the Real Property Section. He is also the co-author of California Construction Law, now in its 17th Edition. Mr. Hunt has been named a California "Super Lawyer" and as one of "America's Leading Lawyers."
The Robert Flaig Award is a very prestigious honor given by the Los Angeles County Bar Association, in commemoration of the late Robert Flaig, to an attorney who exhibits legal excellence in the construction industry and is highly respected by his peers. The nominating committee for the annual Flaig Award lists these criteria for assessing potential candidates:
1. Achievement of personal and legal excellence as a construction lawyer.
2. Practice of construction law ethically, honestly and enthusiastically.
3. Being a teacher of other construction lawyers directly and by example.
4. Giving of time, talents and means to the community and
5. Demonstrating the ability to exercise leadership among the members of the construction law bar and construction industry organizations.
Dale Ortmann described the 2013 recipient of the award stating, "If there was anyone who deserves this award, it is Gordon Hunt. Both Bob Flaig and Gordon were cut from the same mold." On behalf of Hunt Ortmann, we congratulate Gordon Hunt on this exceptional lifetime achievement.
More about Robert Flaig:
Robert Flaig was a leading California expert on construction law. Considered by many to have been one of the best trial attorneys in Los Angeles, Flaig was admitted to the bar of the United States Supreme Court in 1987. He served as Chair of the Litigation Section of the Los Angeles County Bar Association and was active in the County Bar's Delegation to the State Bar Board of Governors. Flaig was named as a Fellow of the American College of Construction Lawyers in February 1998. In 1978, he helped form JAF Ministries, an organization dedicated to serving people with disabilities by refurbishing and distributing wheelchairs to third world companies.